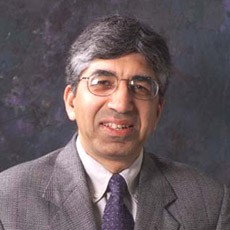 Vinod K. Sikka, Corporate Fellow and Fellow of ASM International
Current research areas:
Hydrophobic materials/surfaces and carbon nanotube-based composites
Education:
Ph.D. in Materials Science, University of Cincinnati, 1973
M.S. in Materials Science, University of Cincinnati, 1970
B.E. in Metallurgy, Indian Institute of Science, India, 1968
B.S. in Chemistry, Delhi University, India, 1965
Experience:
May 2008-Present: Ross Nanotechnology, LLC
Director of Research & Development
Dr. Sikka's responsibilities as the Research and Development Director at Ross include directing and conducting research of nano materials, including super-hydrophobic materials and carbon nano-tube composites. Several chemists, materials scientists and technical staff are collaborators on nano materials research. As the Director of Research and Development, aside from research, Dr. Sikka manages product development, product performance validation, customer development, marketing, and specification developments.
Oak Ridge National Laboratory
Manager - Research & Technology Development
Thirty-four plus years working at the Oak Ridge National Laboratory have given Dr. Sikka extensive experience in research related to the development, processing, properties, welding, and commercialization of advanced ferritic, austenitic steels and intermetallic alloys. Direct research was also conducted in the following areas: advancing new research technology development and funding opportunities, developing advanced materials for structural applications, fabricating novel methods for materials processing, developing new processing equipment, transferring technology from research to industrial applications.
Key research areas include:
Development and commercialization of a Fe-3Cr-W(Mo) steel for chemical industries and power plants. The alloy being developed has the highest creep strength in its class of alloys. It possesses both extreme durability at low temperatures and ease of welding.
Extending the upper use temperature of cast austenitic, stainless steels for furnace and chemical process applications. A number of the new compositions can operate at a temperature 50°F-100°F higher than any of the alloys in this class currently used.
Development of coking and carburization-resistant alloys for ethylene production.
Furthered development of materials for steel galvanizing bath hardware.
Advanced materials for basic open furnace (BOF) and electric arc furnace (EAF) hoods.
Enhanced hydrogen storage materials based on large area/thin-film concept.
Progressed wireless sensors to select impacts on energy storage infrastructure.
Publications:
Over 200 publications in journals and conference proceedings
Awards:
2007: Battelle/ORNL Scientist of the Year Award
2007: Battelle Inventor of the Year Award
2006: TMS Application to Practice Award
1982-2008: Twelve R&D Magazine 100 Awards
2003: U.T.-Battelle Distinguished Inventor Award
2001: Federal Laboratory Consortium Award for Excellence in Technology Transfer for "Polymer Boot Heater to Improve Vehicle Assembly-Line Ergonomics and Production"
1999: American Museum of Science & Energy Foundation for Technological Achievement - Polymer Boot Heater
1999: U.S. DOE, Office of Industrial Technologies, Industry Recognition Award; for contributions to increasing energy efficiency and to improving environmental benefits and competitiveness in U.S. Industry
1998: International Hall of Fame's Advanced Technology Award for Fast Flux Materials Processor
1989-2011: Won 16 R&D 100 Awards for Innovations (This award recognizes the 100 most technologically significant products introduced the past year, and this is the most awards received by any contributor.)
Society memberships:
Member and Fellow of ASM International