Rust-Oleum NeverWet – Industrial Sized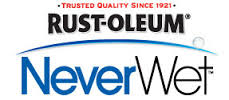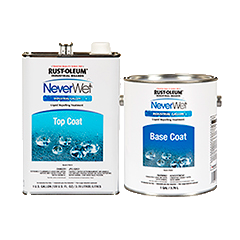 NeverWet Industrial Gallons is a superhydrophobic treatment that dramatically repels water, mud, ice and other liquids.
This revolutionary new class of coatings cause water to form nearly perfect spheres which roll off the surface keeping items dry and clean.  NeverWet is a two part treatment consisting of a base coat and top coat that work best on wood, metal, concrete and masonry.  The treatment dries to a flat milky haze.
Efficiently coat large equipment
More durable than NeverWet aerosols
VOC compliant nationwide
After base coat is applied, wait 45 minutes and apply top coat.  NeverWet will repel water after 30 minutes. Wait 12 hours for optimal performance.
Ideal applications include winterization of assets, mixing/blending equipment, concrete, conveyors, awnings, walls, rooftops and more.