How to Make a Weatherproof Cardboard Box Fort

Who doesn't love a good cardboard box fort? Me, me, I do! Hours of entertainment that comes at a zero dollar price tag? Yes, please. Because we live in New England and endure some looooong, cold winters, we've gotten pretty creative with our cardboard box fun on days when it's too cold to go outside. But even now that the frigid temperatures, snow and ice are long forgotten, my daughter still loves to play in box forts. Box forts are a fun way to change things up in the backyard without dropping a hefty chunk of cash on a playhouse. Unfortunately, a few of our box creations have suffered a sad, soggy fate when left out overnight to sag and collapse after a heavy dew or a surprise rain shower.
Enter Rust-Oleum's newest product. The moment I heard about Rust-Oleum NeverWet, I started imagining all of the things I wanted to waterproof. I won't even go into the list of things I dreamed up — it's long and slightly ridiculous. (Let's just say my husband and I had an entire conversation about treating our brick walkway just to see if we could skip out on shoveling next winter.) Once I came back to reality, I realized that Rust-Oleum NeverWet might just be the product to save our summer cardboard box forts from a soggy fate.
Let me tell you, this stuff was crazy amazing. I did a test on a scrap piece of cardboard and could not believe how cool it was to see the water bead up and slide right off. This stuff is BANANAS.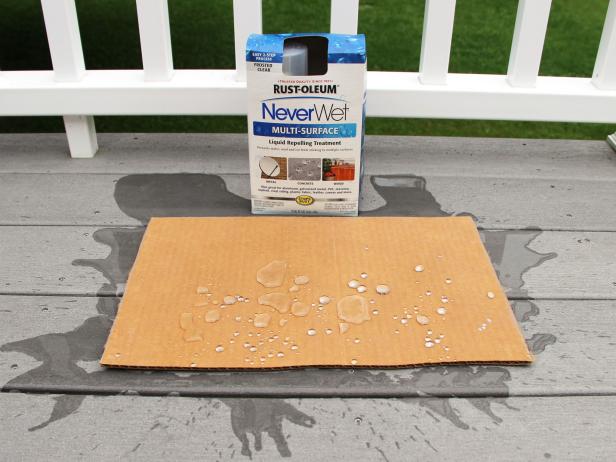 Continued at…
https://www.diynetwork.com/made-and-remade/make-it/how-to-make-a-weatherproof-cardboard-box-fort