Rain, Rain, Go Away! Let NeverWet Rain Repellent Keep You Dry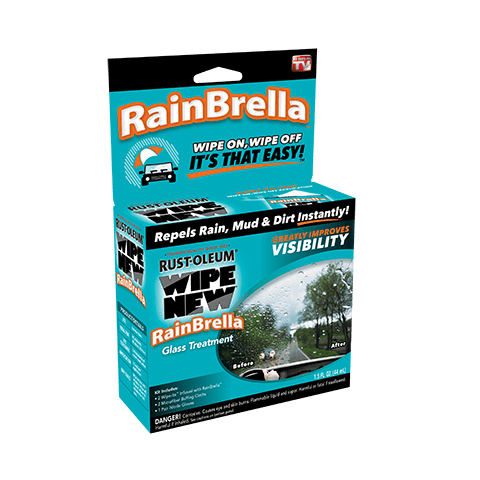 Have you ever been caught in a terrible rainstorm while you're driving down the road? It can be terrifying to suddenly be blinded by a thick layer of rain on your windshield. Avoid this potentially dangerous scenario with NeverWet Rain Repellent!
NeverWet Rain Repellent is a durable, superhydrophobic water repellent designed to improve driving visibility in adverse weather conditions, ensuring safety for you and everyone on the road around you.
What is NeverWet Rain Repellent?
Boasting superior longevity over other hydrophobic products, NeverWet Rain Repellent is available in two convenient, easily-applied forms: our traditional repellent spray, and our innovative RainBrella® rain wipes. These formulas repel more than water – they also repel mud, dirt, and even ice! 
Both the Rain Repellent spray and wipe-on formula are easy to apply and include a haze-free formula, ensuring a crystal-clear shine every time. These products aren't only good for your car windshield – protect your home windows from sudden rainstorms leaving streaks all over the glass!
NeverWet and the Seasons
Applying NeverWet Rain Repellent is important for your year-round comfort and safety. Spring, summer, and fall bring muddy roads and sudden rainstorms to impair your vision, while winter threatens your car AND your home with unexpected freezes. NeverWet's patented hydrophobic technology is the ideal solution in potentially hazardous conditions.
It's important to note that while NeverWet Rain Repellent is a great product for increased visibility in less-than-ideal weather conditions, any opportunity to avoid travel during adverse conditions is optimal. If you're caught in a surprise rainstorm, however, or overrun with muddy conditions, NeverWet Rain Repellent is an amazing choice to stay as safe as possible.
RainBrella® and NeverWet Rain Repellent Spray are available in-store and online for purchase – be sure to find yours today! For more information about NeverWet and its various uses, we encourage you to visit our website or send us an email. We look forward to hearing from you soon!