How Can I Protect My Patio Umbrella So It Lasts Longer?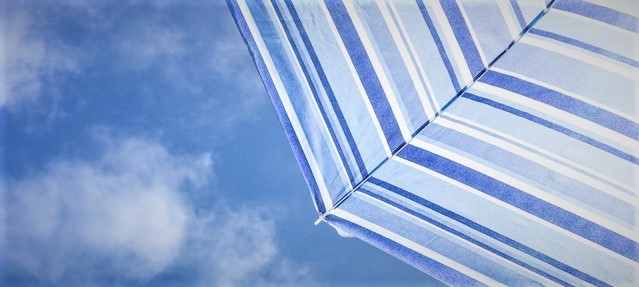 Spring will arrive soon, people, we promise! And then we'll be spending more time outdoors and enjoying warmer temperatures. It'll be time to open your patio umbrella and put it to good use. (Or maybe it's time to purchase a new one?)
Either way, super hydrophobic coatings by NeverWet can extend the life of your patio umbrella.
NeverWet partners with several well-known brands that use the patented water-repelling technology to protect their products. Budge Industries, the most trusted manufacturer and distributor of protective cover products, including its patio umbrella covers.
Do I Need a Patio Umbrella Cover?
NeverWet Extreme Fabric Water & Mud Repellent spray is a one-step treatment that can add weather-resistant protection to your outdoor umbrella for about 6 months. NeverWet is a temporary treatment yet it can be reapplied as repellency diminishes.
A patio umbrella cover, on the other hand, can protect your outdoor patio umbrella for more than a year, depending on the make and model. Budge patio umbrella covers are treated with NeverWet to protect your waterproof outdoor shelter and help you get more life out of it. When your patio umbrella isn't in use, a cover can protect your umbrella from fading.
How to Keep Your Patio Umbrella Clean
One of the best ways to make your outdoor umbrella last longer is to keep it clean. However tiny, abrasive dirt can start to damage the fabric and, at the very least, cause unsightly spots.
This is where NeverWet's superhydrophobic and oleophobic technology does its best work. NeverWet water repellency and dirt/oil repellency combine to create a virtual shield against damaging weather conditions. Budge uses NeverWet technology to boost the protective benefits of its patio furniture covers, car covers, RV covers, and boat covers.
Before storing your umbrella in its cover, you should always gently brush off the dirt, rinse it with clean water, and let it air dry. Start at the top of your patio umbrella and work your way down to its base. If you discover stains, use a mild soap, and gently scrub the stain (if stains do not easily disappear, it may be time to reapply NeverWet Extreme Fabric Water & Mud Repellent.)
How to Keep the Wind from Damaging Your Umbrella
Before purchasing an outdoor umbrella, check its wind capacity. Commercial umbrellas can withstand some high winds, but even those aren't impervious to Mother Nature's strength. Closing your patio umbrella after each use will prolong its life. Never store it wet or mold and mildew might appear. Whenever you're aware of an impending storm try to cover it and move the patio umbrella up against the side of your house or fence to help brace it.
Always secure the base of your patio umbrella to ensure its stability.
If you'd like to learn more about the protective power of NeverWet technologies, contact us today.