How to Protect Patio Furniture From Bad Weather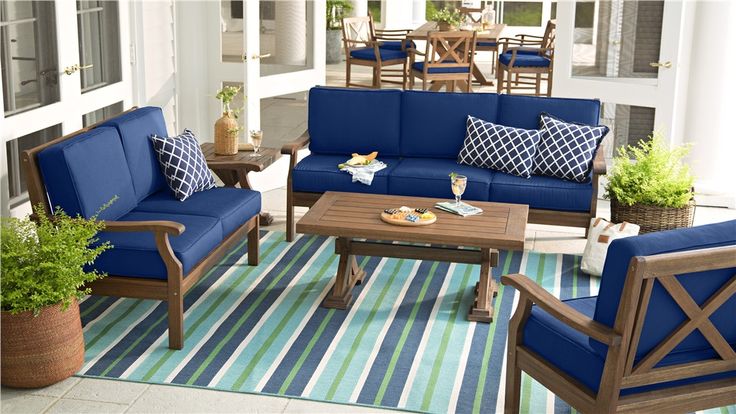 How excited are you to get outside and enjoy nice weather, entertain friends outdoors, and start grilling your dinner again?
It's time to get your garden furniture and outdoor patio sets ready for the season, and time to protect cushions and seating from rain and bad weather, too. 
Let's face it, you'll probably have to protect outdoor cushions, pillows — and outside fabrics in general — from spilled drinks and food, too!
First Step in Protection
The first step in protecting outdoor furniture is to clean it. Wash away any dirt, mildew, or mold that might have collected in the off-season on the furniture frames as well as on any chair cushions. The cleaning products should vary according to the type of patio furniture you have. 
Even if you've kept your patio sets and gardening furniture covered through the winter, you should still give them a quick cleaning. (And clean the covers, too!)
Garden or patio sets made of metals, like cast-iron, aluminum, or copper will likely require a different type of cleaning solution than an outdoor gathering set that's made of wicker or plastic. Read the labels on your cleaning products to make sure you use the best option.
Keep Patio Cushions & Outside Fabrics Dry
NeverWet Fabric is the best water-repellant spray to provide a defense against rain and other bad weather. It offers water repellency beyond other available products and it's simple to use. It's a one-step, superhydrophobic, water-repelling treatment to protect cushions on outdoor seating, as well as the canvas covers used to store patio furnishings during the off-season. It's ideal for protecting:
Leather
Suede
Polyester
Cotton/poly blends
Canvas
 Patio Fashion and Function
You've likely put a lot of thought and money into the look and design of your outdoor furniture and accessories. Protect that investment and save money by extending the life of it. NeverWet's ability to keep grime away and can extend its like-new appearance. It also can save time. No more panicked wash-downs right before your guests arrive for your outdoor gig. 
NeverWet rain-repelling products offer superhydrophobicity, which means your outdoor furnishings get a super protectant coating that forces water (or other liquid) off the surface while it carries away dirt and grime. You can confidently host cookouts and garden parties without worrying about messy mishaps.
Spraying Outdoor Furniture
Avoid spraying in very windy or dusty conditions. You'll want to cover the area nearby to protect it from any spray mist. First, test a small, inconspicuous area of the cushion or fabric piece you plan to coat with a protective spray. A test spray will help you get a feel for the spray pattern of the NeverWet Fabric product.
More is not better. You don't want to saturate your outdoor cushions and furniture with NeverWet's moisture-repelling products. Spray in quick, light, evenly protectant coats.
Allow the protected patio items to dry for 24 hours before they are exposed to any inclement weather conditions or moisture. To prevent possible blockage, wipe the nozzle of your NeverWet protective spray before storing it for future use.
Once the protectant coatings are dry on all your outdoor fabrics, start getting your cookout in gear and welcoming your guests!